Burning Man 2018 có gì đặc sắc?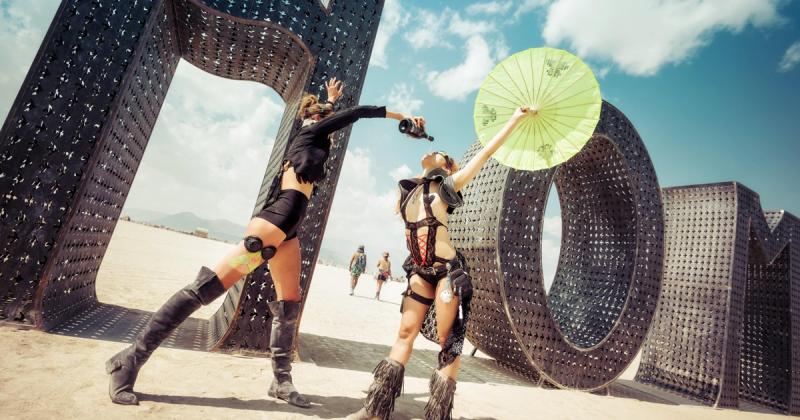 Với lịch sử từ ngày lễ Lao động, lễ hội Burning Man hiện thân như những kỷ niệm về người thành thị đương thời.
Hơn 70,000 người đã đi chặng đường dài đến thành phố Black Rock ở sa mạc Nevada để tham dự lễ hội đặc biệt này. Họ đem theo những tác phẩm đáng ngưỡng mộ với chủ đề I, Robot (tạm dịch Tôi là người máy) - thiết kế bởi nhiều nghệ sĩ và kiến trúc sư từ khắp nơi trên thế giới. Với sự giúp đỡ của rất nhiều tình nguyện viên, tác phẩm khổng lồ của sự kiện là bản hoà trộn giữa chủ nghĩa vị lai và niềm hoài cổ, thể hiện bằng những chiếc xe đẩy hàng trong siêu thị hay các nhân vật của game Pac Man.
Thật đúng khi nói Burning Man là thể loại lễ hội mà bạn phải thấy mới tin. Với sự giúp đỡ truyền thông, chúng ta có cơ hội chiêm ngưỡng vẻ đẹp bên trong của thành phố Black Rock. Được ngắm nhìn vẻ đẹp của tác phẩm sắp đặt nghệ thuật của Burning Man 2018 thật sự là một điều kỳ diệu. Nhưng khi dỡ trại, đó là lúc phá bỏ tác phẩm tuyệt vời The ORB, một quả cầu khổng lồ bay lượn quanh khu lễ hội và chiếu rọi không gian xung quanh. Đương nhiên, còn có Galaxia, ngôi đền gỗ nằm ngoài rìa lễ hội - một đám cháy rực rỡ như núi lửa.
Cùng ngắm nhìn những ảnh chụp đẹp nhất tại lễ hội Burning Man 2018 dưới đây nhé.
---
Nguồn: mymodernmet
ChilaxuWriter
An ecophile and slo-mo and temporarily happy person. Find me by 'sungamphim'.